Extra virgin olive oil is made up of pure, cold pressed olives, on the other hand, other oils are made from both processed and pressed oil seeds. When it comes to the comparison of the EVOO with other edible oils, you will always find EVOO 2 steps ahead of all of them.
The market is full of varieties. People from different regions around the globe use different types of oils in their foods according to their traditions and taste. But, now as the field of medicine and nutrition is more advanced than before, the nutritional values of all these edible oils have also been revealed. Science has gathered the data on their nutritional values, thus helping people to choose the best one according to their health.
Now based on the scientific data, the question arises that how extra virgin olive oil is better than other oils. The answer to this question lies below. I have gathered some general differences of the most commonly used oils in the market in comparison to the EVOO. This data might will help you to choose the right one for you.
Let's begin!
Find out the difference between oils
Extra Virgin Olive Oil vs Canola Oil
Canola and EVOO both are called as heart healthy oils. Canola oil is extracted from genetically modified rapeseeds while EVOO is obtained from pure fruits of olive trees. Canola oil undergoes extensive processing so that its odor and color can be neutralized.
Processing reduces the antioxidant levels to a greater extent in canola oil, thus polyphenols found in canola oil are far less than EVOO. High polyphenol level in EVOO makes them better for heart patients in comparison to the canola oil which has reduced amount of this antioxidant.
Extra Virgin Olive Oil vs Extra Light
Extra light is the light olive oil and is one of the lowest quality in its types. It is processed with chemicals and heat to remove impurities. As a result its color and flavor is lost. In the market, extra light oil is also available with a canola oil blend.
Extra light oil is not better than EVOO as the true purpose of olive oil is lost during processing.
Extra Virgin Olive Oil vs Coconut Oil
EVOO contains highest level of monounsaturated fatty acids, whereas coconut oil contains the highest levels of saturated fatty acids. Coconut oil is rich in LDL (low density lipoproteins), which is also known as bad cholesterol.
LDL is known as causing heart diseases, heart attacks and blocking the blood veins and arteries. Coconut oil does find a good place in cooking as saturated fatty acids are also required by the body. But, in comparison to EVOO, coconut oil is far less healthy than the latter oil.
Extra Virgin Olive Oil vs Fish Oil
EVOO vs fish oil is a debate than has been going on since the last few decades. But, recent research has shown that omega 3-fatty acid containing fish oil has failed to prevent the cardiovascular disease development in the diabetic patients.
A 2017 and 2018 scientific research has shown that daily consumption of EVOO is leaving good impacts on health as compared to the fish oil consumption.
Extra Virgin Olive Oil vs Butter
Extra virgin olive oil vs butter shows unique results. Butter and EVOO both are rich in fatty acids and both contain calories, but the latter has no dietary cholesterol.
Butter is better for baking cakes and cookies, but when you want to consume healthy, then EVOO is the best option.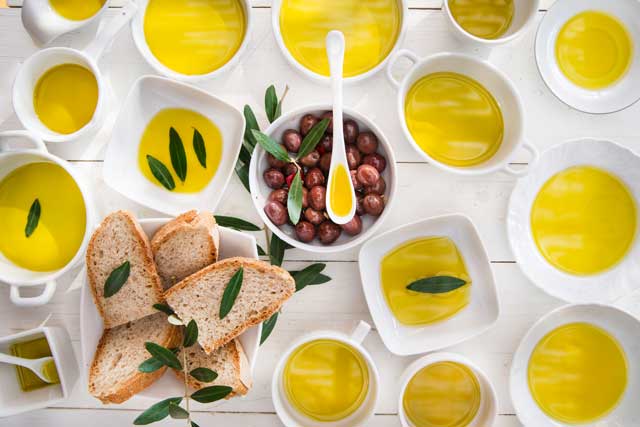 Buy the best spanish extra virgin olive oils in our online store.
Extra Virgin Olive Oil vs Avocado Oil
Avocado oil is no doubt a very good one to consume, it is rich in vitamins, minerals and antioxidants. It is also linked with the cure of heart diseases. EVOO and avocado oil both have similar fatty acid composition, but when it comes in comparison to the anti inflammatory antioxidants, EVOO is one step ahead of avocado oil.
Extra Virgin Olive Oil vs Olive Oil
Simple olive oil is obtained by mixing cold pressed and processed olive oil. This one is not pure like EVOO, as the latter is unrefined and does not contain any chemicals and flavors. Olive oil has more oleic acid as compared to EVOO, which has less than 1% of it.
EVOO is extremely good for salad dressings, bread dips and other dressings, while olive oil is good for cooking.
When the point is clear about the comparison of extra virgin olive oil vs other oils, you will definitely like to buy some EVOO. The best and high quality product you can ever get is only from our 'Spanish oil' company. This is the best company in Spain that provides pure products from all well known brands. We don't only ship in Spain, but also take international orders as well. So, give it a try and see what good impacts it will leave on your health.
Other topics of interest
What Does Extra Virgin Olive Oil Tastes Like?
Do Extra Virgin Olive Oil Tastes Like Olive Oil? Alle the answers in our blog, this article will surely help you to undertsand the tast of EVOO.
Conclusion:
Extra virgin olive oil is the healthiest fat on earth and this fact is scientifically proved. It is all in all a complete package of nutrition full with vitamins, minerals and healthy fatty acids with no dietary cholesterol. As compared to other edible oils which are obtained after passing a series of processing stages, EVOO is pure and does not contain any chemicals or heat treatment at all. You can blindly trust the Spanish Oil, as we provide pure EVOO which is a great package to choose for a healthy diet than any other oil.