Conjure up unique taste creations with the high-quality Picual from Nobleza del Sur! Tradición 1640 Picual, an exclusive and complex olive oil.
Delivery times
Delivery cost
Warranty and returns
Secure payment
500 ml exclusive olive oil TRADICIÓN 1640 PICUAL
In the province of Jaén in sunny Andalusia, the single-variety Tradición Picual from Nobleza del Sur. The family business has a long tradition because, as the name of the high-quality olive oil, it has existed since 1640. Now in its 12th generation, the Peñuelas-Sagra family is characterized not only by a wealth of experience, but also by their love of nature and their passion for olive cultivation.
Tradición 1640 Picual is an exquisite extra virgin olive oil loved by olive oil connoisseurs for its magnificent appreciates spice. But even newcomers who love the typical, tart, bitter taste of olive oil will be impressed by the yellowish-green olive juice. To fully enjoy the unique aroma, consume the exquisite oil pure on a piece of freshly baked farmhouse bread. Tradición 1640 Picual can be served both as a starter and as a small snack in between.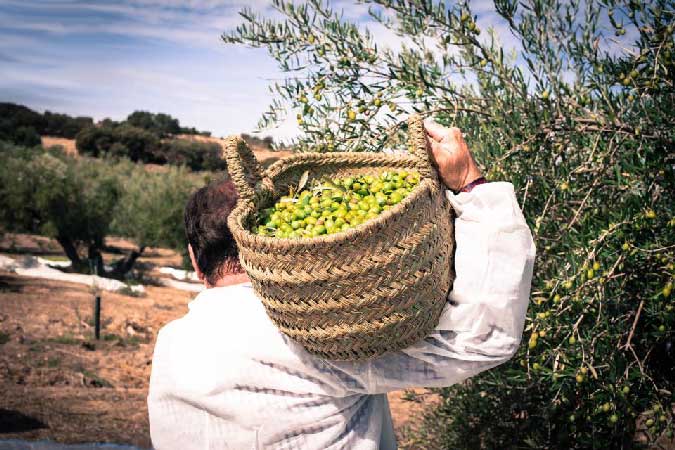 Picual olive oil rich in polyphenols
Feast and do something good for your health at the same time? The pure Tradición 1640 Picual from Nobleza del Sur makes it possible. Because the high-quality extra virgin olive oil not only impresses with its wonderful aromas, but also scores with a high content of polyphenols . Numerous studies have already shown that these secondary plant substances are of great value to human health:
As antioxidants, they are needed by the body to inactivate free radicals and aggressive oxygen compounds.
They help to inhibit the growth of certain cancer cells.
They support the immune system in an anti-inflammatory manner.
You reduce the risk of cardiovascular disease.
So if you want to eat olive oil as the basis of your fat intake as part of a healthy Mediterranean diet, then the high-quality Tradición 1640 Picual from Nobleza del Sur is the right choice. After all, the top oil does not only contain polyphenols, but like any other cold-pressed, virgin olive oil vitamin E, Vitamin K and both mono and polyunsaturated fatty acids.
The exquisite olive juice therefore helps regulate cholesterol levels by reducing bad cholesterol and increasing good cholesterol. In the morning, on an empty stomach, a tablespoon of olive oil stimulates digestion and after eating it helps against heartburn.
Even if the Tradición 1640 Picual is somewhat more stable than other types of olive oil due to its high polyphenol content, you should store the top oil properly:
Tradición 1640 Picual should always be stored cool, in the pantry or in a kitchen base cabinet.
It must be protected from light, preferably in the dark original bottle.
To protect the aromatic olive juice from oxygen and the associated loss of aroma, always keep the olive oil bottle tightly closed.
Tradición 1640 Picual, tart, spicy, complex olive oil
The fact that the olive oils from Nobleza del Sur are well received by experts and professionals can be seen from the numerous national and international prizes and awards. You decide for yourself whether the consumer likes the Tradición 1640 Picual. However, we are convinced that you will be fascinated by the scent that hits your nose when you open the 500 ml bottle.
Because in addition to the wonderful smell of fresh olives and olive leaves, you can perceive nuances of freshly cut stalks of grain. You can smell a hint of lavender and the aroma of tomatoes as well as fruity notes of green banana, green apple and green almonds.
In order to taste the diverse aromas that you could recognize with your nose, you have to taste the high-quality olive oil pure. Pour some Tradición 1640 Picual into a low glass mug. Warm the oil jar in your hand and take a small sip. Let the first-class olive oil slowly roll over your lips into your mouth, it inspires with a gentle, pleasant entrance the tip of the tongue. Once in the mouth, it unfolds a typical, slightly bitter spiciness. It comes off with an elegant sharpness that stays in the throat for a while after swallowing.
Enjoy Tradición 1640 Picual with us!
Thanks to its exquisite aroma, the top-class Tradición 1640 Picual from Nobleza del Sur is suitable for refining everyday delicacies as well as for special delicacies and unusual creations. We use the premium extra virgin olive oil
for preparing hearty stews
for a spicy roast
for the grilled steak
to complement a ham platter
to finish off hard cheeses and semi-hard cheeses
on the pizza
about pasta dishes
to the extravagant fruit salad
to chocolate ice cream parfait
Customers who bought this product also bought:
Customers who bought this product also bought: